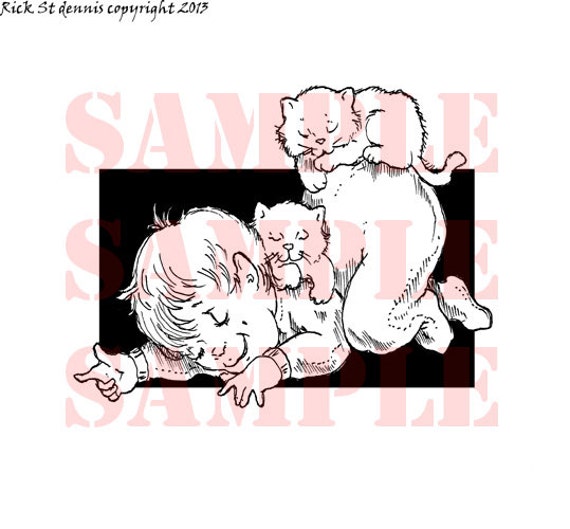 sweet image called,
"Cat Nap"
. So precious and mainstream.
I was feeling a bit frisky when I saw a sample card
my fellow EDT member Monique made for the image.
I dared her to creep it up a bit. I love transforming images,
and haven't had a go in a while. Even our other EDT Sister, Alison
wanted in on the make-over action.
Now the logical plan of attck would be to work on the kiddo.
He is pretty easily transformed just by the use of color, but I wanted a bit
more of a challenge. Those kitties look like they could be fun....
So glad to have those Copic multiliners. They made the transformation
much easier than a Sharpie. I decided to go with mutant eyes and horns
for the kitties. The talons reminded me of a sloth, which I thought was cool.
After transforming the kitties, I was at a loss as to how to change the kid.
I decided to go with the idea of a nightmare that hasn't struck just yet.
That way the boy could stay the same and just the felines had gone
terribly feral. I hand wrote the "Sweet Dreams" with a multiliner.
Another of my favorite sentiment stamps, coupled with a kitty sticker border,
and an eyeball sticker from MS.
I received this cute, black paperbag scrapbook from Barb, months ago, and have
been plotting how and when to use it. I have decided to put together a MoNsTeRs
scrapbook using a bunch of
RSD
images, old and new. Stay tuned for more installments.
their sleeping baby and kitties image. Not for the faint of heart though....